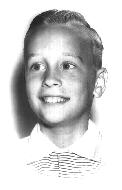 My brother passed away today, he was almost 68 years old (the image on the left is when he was about 13 years old in Santee, California). Gary Wayne Harshman was born on the 7th of December 1949 in Tacoma, Washington. He was an exceedingly good man and raised three wonderful children. A highly intelligent, humorous and caring man, he was always there to lend a helping hand and to lift the spirits of everyone near. He was also an accomplished guitarist. If it were not for his influence and moral support, I may not have become a Physicist. He even taught me to tie a double Windsor knot so I would look presentable. A true Renaissance man, he touched many, many lives during his all too brief time on Earth, and his love and caring spirit will live on through all of us. I will miss him very much, remember what he taught me and be consoled in the knowledge that he is with our parents in God's loving arms. Gary leaves behind his three children, Andrew, Lana and Natalie, two siblings, Joni and Dale (me), three nephews, Mathew, Daniel and Joshua and many many more who knew and loved him. I will be forever grateful that God chose him to be my brother. more
---
---
Gary's 60th birthday celebration (2009).
---
GARY W. HARSHMAN (7 December 1949 – 28 September 2017)
Senior Environmental Planner
Key Areas of Experience
Environmental Impact Assessments
Permit Procurement
Environmental Analyses
Resource Planning
Environmental Document Preparation
Public Involvement
Education
B.S., Biological Oceanography, University of Washington, 1973
B.S., Marine Biology, University of Washington, 1973
Memberships
American Water Resources Association, Founding Chairman, Public Involvement Committee
Gary Harshman has extensive experience in environmental, capital facilities, transportation and resource planning. He has conducted SEPA reviews and procured permits for dozens of projects. He has also been involved in developing capital facilities plans consistent with the requirements of the Washington State Growth Management Act.
Gary's broad knowledge of upland, shoreline and offshore resources includes permit applications for general development, assessment of potential impacts of residential and industrial development, environmental impacts of public projects, and surveys of commercial and environmental resources. He has served as an ecologist and environmental consultant studying the impacts and risks associated with energy-related and other industrial development throughout Washington State. Gary also has been active in terrestrial and aquatic resource development and coastal resource planning throughout the Northwest. In addition, he has been very active in the area of public involvement and citizen education with regard to environmental issues. more
---