---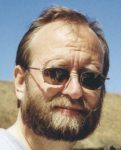 The Interactions of Muonium with Silica Surfaces
Muon/Muonium Surface Interactions, D. R. Harshman, Invited Paper, in Proceedings of the µSR-86 Conference, Uppsala, Sweden, 23 – 27 June 1986, Hyperfine Interactions 32, 847 (1986).
I look back with great fondness on my years at the University of British Columbia and TRIUMF. So many wonderful and talented people made life interesting, and the successful completion of my dissertation possible. It was a truly unique opportunity that set the course for my professional life.
---
Searchable PDF of complete Ph.D. Thesis
---