---
Ultra-Low Energy Muon Source, μSOL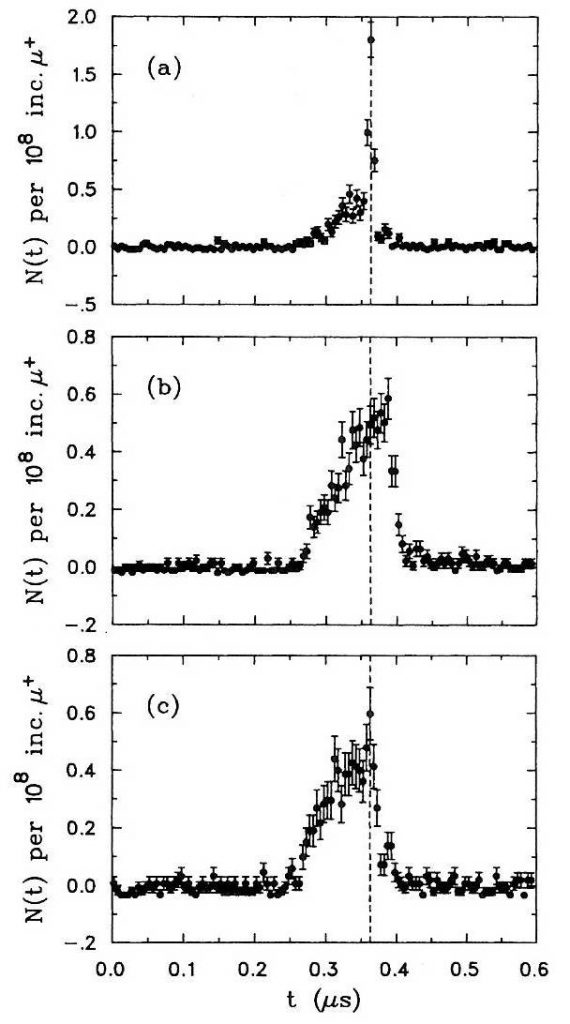 Band-gap moderated slow positive muon beams – While positive muons (μ+) typically behave as light protons, they can also act like heavy positrons (e+). Bearing this in mind, Dr. Harshman and coworkers, considering results detailing e+ moderation in large band-gap solids, proposed the possibility of similar behavior for positive muons. The mechanism relies on energy loss per unit length (dE/dx), which decreases as the stopping particle energy falls below the band-gap energy of the moderating solid, resulting in a moderated particle beam of a few eV. Since the only relevant difference between muons and electrons in this context is mass, such a mechanism was deemed applicable for producing a slow μ+ beam. Conducted at the TRIUMF facility in Vancouver, B.C., Canada, this research resulted in the discovery of the first practical technique for producing a low-energy (<10 eV) positive muon beam. It was christened with the acronym μSOL (i.e., muon separator online). The figure to the right shows the time-of-flight spectra for low-energy μ+ from the surface of (a) LiF, (b) SiO2, and (c) Cu. The data are normalized to 10 incident μ+, and the errors shown are statistical. [Physical Review Letters 56, 2850 (1986)].
The same 1986 paper reported the first observation of (<10 eV) negative muonium (i.e., Mu– or μ+e–e–) ions in vacuum. This was accomplished by again using a Cu moderator, and reversing the polarity of the spectrometer to focus and transport the Mu– ions.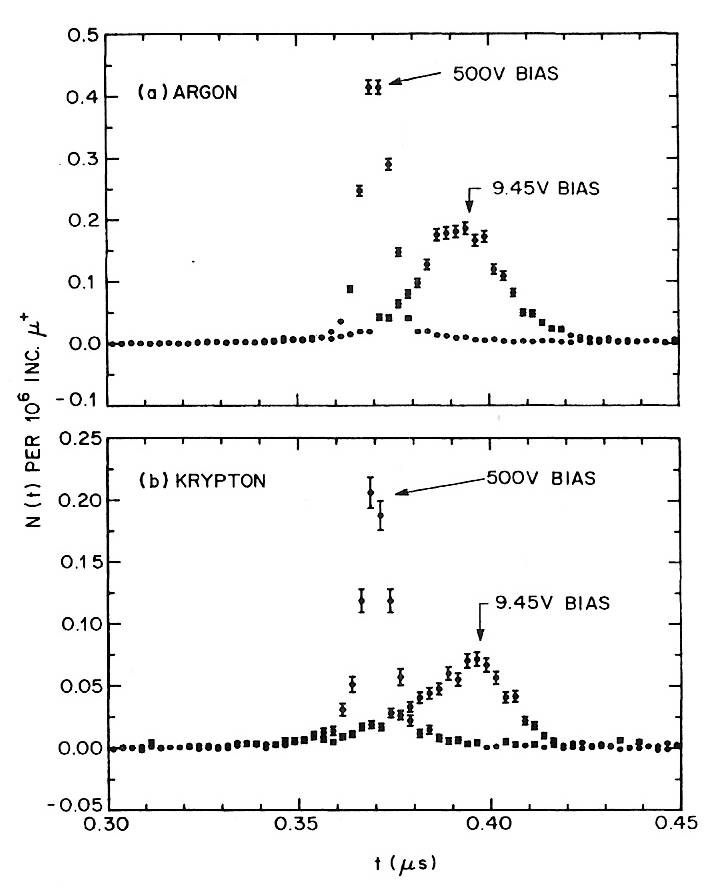 In 1987, the slow muon production rate was increased by a factor of ~100 using solid rare-gas moderators, producing a usable flux of slow positive muons. This was accomplished with the same spectrometer as employed in the 1986 paper, incorporating a specially-designed 4He cryogenic target. The figure to the left shows the slow μ+ emission from solid (a) Argon and (b) Krypton at two different acceleration grid biases [Physical Review B 36, 8850 (1987)].
The development of the band-gap moderated slow μ+ beam is documented in Discover Magazine, Wikipedia, and Everipedia.
Below is a slideshow of the slow muon spectrometer as configured in 1986 for non-cryogenic moderators, mounted on the TRIUMF M20 surface muon channel.
---
---
The slow muon production technique pioneered by Harshman and coworkers was adopted by the Paul Sherrer Institute (PSI) for their slow positive muon beam facility.
---